1. What is Telephone Translator Support?
2. When can I use Telephone Translator Support?
3. How can I use Telephone Translator Support?
4. Important notes

1. What is Telephone Translator Support?
24-hour Telephone Translator Support can respond to every place and situation in case of trouble or need for help. With this service, you can travel safely and securely in Japan.
Supported languages are Japanese, English, Chinese and Korean.
Telephone Translator Support is not exclusive for rental car situations. It can be used in any situation, as you can see below.
<Questions during shopping>



<When you need an interpreter at a restaurant>



<When you need directions>


*The Telephone Translator Support cannot respond to any inquiries other than for translation purposes.

2. When can I use Telephone Translator Support
The service is available 24/7 if it is within the rental car usage period.
There is no limit on the number of times of use.

3. How to use Telephone Translator Support
① Please check whether or not your reservation includes Telephone Translator Support. You can confirm it from the ToCoo! options section of the Reservation Confirmed mail. If Telephone Translator Support is included in the ToCoo! options, your reservation has the service included.
② Call the dedicated Telephone Translator Support phone number and tell the operator your reference number.
*We will send the phone number and reference number to you by email 1-3 days before your rental car start date.
*The translation service is only for telephone correspondence, so it can't be used with WiFi phone services such as Line phone, WhatsApp phone, etc.
③ Describe the situation to the operator and tell them what you need translated, then hand the phone to the other party.
④ After finishing with the interpreter, please hang up the phone.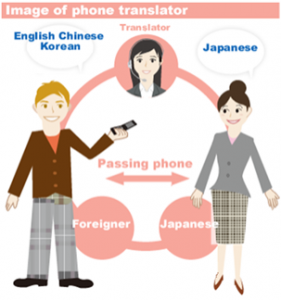 ① Translation service can only be used when you are physically facing the person who you would like to translate. It is not possible to interpret for people who are not with you at the time of the phone call.
② Telephone Translator Support cannot be used as a customer service line. The translators cannot respond to any inquiries about ToCoo services, problems (such as car trouble), or any other negotiations.
③ You can't use telephone translation service if you don't have the reference number. If you do not receive an email with the dedicated telephone number and reference number by 1 day before the car rental service begins, please contact us from the following Inquiry Form.
④ Any call charges will be paid by the customer.
If you have any questions, please don't hesitate to contact us via the Inquiry Form on our website.