License Type
International Driving Permit (under the Convention on International Road Traffic of 19 September 1949)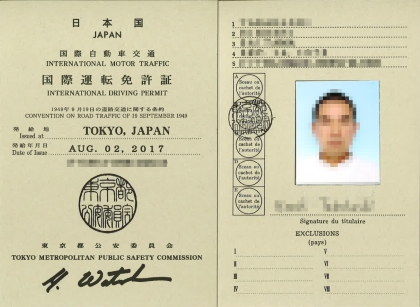 Nationality
Hong Kong, Singapore, Thailand, Australia, Korea (Republic of), U.S.A., Canada, Macao, Malaysia, U.K., France, Italy, Netherlands, Sweden, New Zealand, Russian Federation, Spain, Czech Republic, Portugal (inc. Madeira & Azores), South Africa, Norway, Luxembourg, Belgium, India, Ireland, Bangladesh, Austria, Jamaica, etc.
List of the contracting states of the Convention at Geneva 1949
Important Notes
* Only International Driving Permits issued by a contracted signing Nationality which participated in the 1949 Geneva Convention are valid to drive in Japan. An International Driving Permit from other conventions or treaties is invalid.
* The International Driving Permit is valid for 1 year from the date of issue, and you are allowed to drive with it for 1 year from the date of your entry into Japan.
* Residents of Japan (mid- to long-term foreigners, etc): if you reenter Japan within 3 months of leaving the Nationality, you cannot drive with your International Driving Permit even if it is a new one you receive during your time outside Japan.