Reservation Steps
Step 1

Find the best car for you through our search engine

You can find the best car for you and see prices by using our Search Engine options:
-By Map
-By Airport
-By Outlet
-By Car Rental Brand
-By Train Station
-By Hotel

ONLY vacant cars are shown with their prices in the search results.
You can also see the total cost including insurance and other options. Tax will be added when you proceed to the reservation form.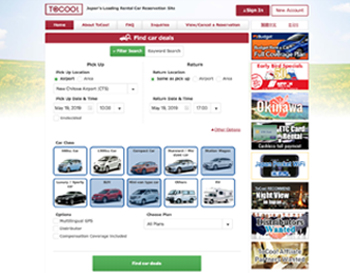 Step 2

Add options

When you find the best car for you, please click the BOOK NOW button.
You can add options and see the simulated price.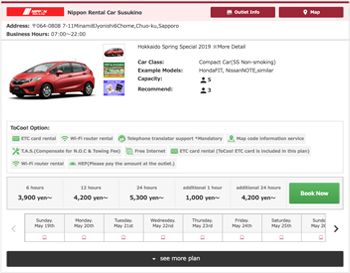 Step 3

Reservation form

Fill out the required information in the application form.
If all the required information is not entered correctly, the booking cannot be processed.
The confirmation email will only be sent to the registered email address.
Please be sure to enter the CORRECT email address.
Step 4

Confirm the booking information and the conditions of your ToCoo reservation

Please confirm the booking information again before you submit the reservation. Also, before submitting the application, please read and accept the terms and conditions of ToCoo reservations.
If you accept all the conditions, please click the Confirm button to complete your reservation.
Step 5

Confirmation Email

After the booking is completed, we will send you the reservation confirmation email to the registered email address.
If you do not receive your reservation confirmation email from ToCoo, please contact us via the Inquiry form.
Please be sure to check all your email inboxes and the spam folder.
Step 6

Confirming your reservation on the ToCoo! website

You can check your reservation on ToCoo's website by entering your reservation number and password in View/Cancel a Reservation.
If you cannot login to this page, please contact us via the Inquiry Form. *The reservation number and password are included in the confirmation email.
Step 7

Changing your reservation

If you would like to alter any conditions of the reservation, please cancel it and book again with your updated conditions.
*Please be aware that we cannot guarantee vacancy of the car when you rebook.
Step 8

Go to the rental car outlet

Please bring the following with you to the outlet: valid credit card, original domestic driver's license, International Driving Permit under the Convention on International Road Traffic of 19 September 1949 (some countries may require a license translation), and passport.
After registration, you will receive the car from the outlet.
Step 9

Return the car

Before you return the car, you must fill up the gas tank at gas station near the outlet, and then return the car to the outlet at the scheduled return time.
Step 10

Car rental check-out

Outlet staff will check the fuel meter and confirm the condition of the car.
If there are any extra charges (including penalty charges), please pay in accordance with the rental car contract.